Welcome to another edition of the Irish Blogger Gathering. Here at Charlie's
Nasties
we don't have much besides a few rag tag college kids to our name, but this week we have the privilege of hosting the weekly
IBG
segment. Seeing as perhaps the most college-friendly holiday lies at the end of the calendar for this week, the
IBG
questions have a little Halloween twist to them. Enjoy!
1. A loss to Washington would have been spooky, but we were able to pull it out. What was your favorite part of the victory?
After
offseason
promises of having a power running game, it was very fulfilling to finally see
Notre
Dame impose their will on another team by using an effective ground attack; Irish backs averaged 5.5
ypc
and ND scored 3 times (if you count Tate as a back) en route to a 237 yard performance. The Huskies looked physically inferior on the other side of the ball, but then again, earlier this year
Notre
Dame struggled to move the ball against
SDSU
and Stanford, who arguably had the same disadvantage. To paraphrase Dennis Green, the Irish running attack 'was what we thought it was' last weekend; it was just very reassuring to see it.
2. Charlie's

Nasties

does a Duds and Studs segment to reflect on every game. Name one player/coach that could have done better against the Huskies and one player/coach that stepped it up.
I don't want to be too tough on
Clausen
, especially considering that
Weis
was obviously trying to keep the ball on the ground for much of the game, but it was a small let down to see Jimmy put up very modest numbers (14/26 for 201 yards) after setting personal yardage records in each of the previous three games. While part of me really wanted
Clausen
to mimic the 4 TD performance against
UW
that Brady had his sophomore year, the game seemed more like a small hiccup than anything serious. Expect a motivated
JC
to put up better numbers against Pitt. (
Sidenote
: for anyone that normally reads Duds and Studs, I rarely cop out and only list one person, but I thought the team played so well overall this week that I had to rely on help from other
bloggers
... check the comments of this article to see the other Duds and Studs this week)
Stud: Harrison Smith

OC
Domer
broke down a couple years worth of info from the Blue Gold game, and one of the conclusions was that the game's
MVPs
generally went on to have a good (if not great) career at
Notre
Dame. When Harrison got the defensive honors this year, I was a little skeptical, attributing his spring performance more to playing a special position (see Ronnie Brown in the Razorback) than skill that would translate to the rest of the season. However, Smith has played extremely well the last two weeks in pass coverage, run support, and QB rushing (2 sacks against
UW
), which basically means that I was completely wrong in my Blue Gold assessment. This guy has a knack for finding the football, and I hope that he can keep playing at this level for the rest of the year.
3. Halloween involves people abandoning reality for awhile to dress up and imitate something that they are not. Pick one Halloween costume with traits you would like to see from the

Notre

Dame football team the rest of the season.
Over the past few weeks we've seen the Irish show flashes of being a very good football team. The 124 yards of total offense given up by the defense was the
best by an ND squad since 1996
, Allen rushed for 134 yards against Purdue, we had 6 takeaways against Michigan, and
Clausen
threw for 347 and 3
TDs
against Stanford. Despite these and other great performances, however, I still haven't seen the Irish put together a complete game, so I would like to see the running game working well with the passing game, the defense matching the offense, and the special teams working well on top of it all. I want to see all of
ND's
players all playing well together, which is why I'm picking the superhero tandem of Batman and Robin, who always work well together to win.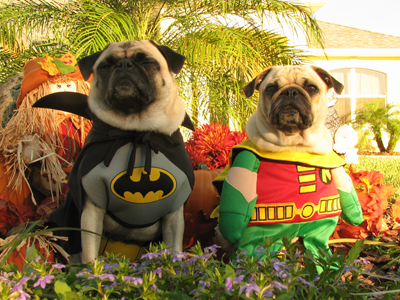 Alright, maybe a more intimidating picture would have really stuck the point home, but I think you get my drift.
4. When trick-or-treating as a kid, there always seemed to be at least one house that handed out apples. What aspect of the football team this year is the biggest apple in your candy bag (aka biggest disappointment)?
As mentioned in my response to question 1, I have been pretty disappointed with our running game thus far in the season, especially considering the talent we have at the position and Weis' preseason pledge to focus on that aspect of our game. It was not very comforting as a fan to see our 'power running' mindset fail to yield a 4.0 ypc rusher against San Diego State, MSU, or Stanford in our first 5 games, but Allen and Aldridge have been running hard recently, and the O-Line seems to be having more success as less zone blocking plays are being used. Hopefully this trend continues and the Irish will be able to look to their ground game when the weather begins to get worse over the next few weeks.
5. This year, October 31st is coincidentally also the opener for ND's Mens Basketball team (preseason against Briar Cliff). Say a few words about one player that will make have the biggest impact on the success of the team this season (apologies to non-bball fans, but I couldn't resist).
The great thing about this year's squad is that there are so many players with the potential to make an impact this season. Just to give you an idea, I'm really excited to see Jonathan Peoples and Carlton Scott play this year, and they likely won't even be in the top 6 or 7 in minutes. To answer this question, though, I'm going to pick Tory Jackson. Jackson has the best ability to penetrate from the half court set, and having the option to slash and dash to the basket will create some higher percentage shots when Harangody is struggling (so we don't have to go into the 3-point offense), and Tory's great passing game will result in a lot of great assists. I've also really enjoyed watching Jackson D up on some of the best guards in the Big East, and I think his perimeter defense will be key to shutting down some of the better teams.
That's all for this issue of the Irish Blogger Gathering. Make sure to check out
Her Loyal Sons
next week. Go Irish!