This week's questions from
Brawling

Hiberian
, a hysterical blog that readers should check out.
1. In the parlance of

DJs

, a "deep cut" is a song that wasn't released as a single and, generally, is not well-known. What

Notre

Dame victory is your favorite "deep cut" from the Irish catalog? In other words, what is your favorite victory that is not widely celebrated (i.e., not the "Snow Bowl" or the 1988 Miami game, etc.). Explain in much detail.
Think back to the start of the 2004 campaign, where Marcus Wilson and
TT
combined to produce a whopping 11 rushing yards on 21 attempts to open the season in a loss to
BYU
. My "deep cut" is the following game against 7
th
ranked Michigan. Two Brady Quinn interceptions and a stagnant first half offense had ND down 9-0 entering the 3rd quarter, and then freshman Darius Walker was given the chance to win the RB job. Walker excelled in the game, rushing for 115 yards and 2
TDs
. Sadly, inconsistency would plague the remainder of the season, making this upset a little less enjoyable in hindsight, but then again, I don't think I ever even saw ND win a bowl game, so this is my deep cut.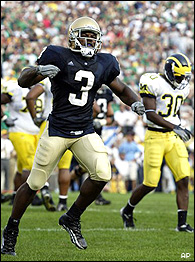 2. As much fun as it is rooting for our heroes, it can be just as enjoyable to trash those we consider to be villains. A few years ago, the great Irish blog, Blue Gray Sky, wrote a post discussing the biggest villains in

Notre

Dame history. That post focused on external villains. Today's question is, of those associated with the program, who is the biggest villain? This individual must have been a player, coach or administrator at ND who, through reckless acts of cowardice, stupidity or malice, damaged the football program. (Note: Ty

Willingham

is off the board)
How about Heisman trophy winner Paul
Hornung
, who after a disappointing 2003 campaign, proclaimed that, "We can't stay as strict as we are as far as the academic structure is concerned because we've got to get the black athlete. We must get the black athlete if we're going to compete."
Notre
Dame is not a very diverse campus to begin with, so this comment was particularly disappointing as it gave the media fuel to perpetuate the perception that the University has racism issues. A quasi-tangential effect of this comment is that perhaps if this comment
hadn
't been made, Irish fans
wouldn
't have had to put up with as much post-
Willingham
backlash. The most disheartening aspect of this comment is that such a prominent figure in
Notre
Dame history may be forever linked to the racism that the University has tried so hard to fight.
3. Falling in love is a wonderful thing. As Lt. Frank

Drebin

once observed, "you begin to notice things you never knew were there before; birds sing, dew glistening on a newly formed leaf, stop signs." Describe the moment that you knew that there would be no other; you were in love with

Notre

Dame.
When I read this question, I thought it was odd that I couldn't really come up with any spectacular or even specific moment. The closest thing to a 'moment' was probably sometime in the beginning of winter my Freshman year when I found my self on a late walk across South Quad on the way back to my dorm. The first real fresh snow had just fallen (and it was the big, slow, puffy kind, not the usual Midwest sideways sleet stuff), and the campus in general looked beautiful. Sure there are times when students complain about invasive construction (see: having to walk through a construction sight for two semesters to get to every single one of my classes), but when everything quiets down at night, the magnificent history and tradition of the University always seem to get me a little awestruck.
Kind of sappy, I admit, but you know it's true
4. Regrets, we've had a few but, then again, too few to ever let go of any of them. What game, or specific play, in Irish history turns your dreams into nightmares and haunts your every waking moment? Describe this moment and why you wish ND could have another crack at it?
Is there any better moment to pick than the Bush Push in 2005? With their only loss being an overtime shootout against
MSU
, Irish fans around the nation were foaming at the mouth to slay the Goliath that was the 2005 Trojans, and the crazy thing is that in the fourth quarter, we were actually winning. The most crazy thing? When the clock hit 0:00, we were winning! I guess that a certain immortality comes with the end of that game in the fact that the nation basically recognized that
USC
unjustly scored on the last play (whether it be from ball spot, untimely booth review, or push), but I would still have liked to see
Notre
Dame pull out that W. It would have given
Weis
a win against
USC
and possibly given the team a shot at Texas in the National Championship. I'm not sure how that squad would have done against Vince Young and a dirty Texas defense, but it probably
wouldn
't have been any worse than the massive
OSU
losses in recent years.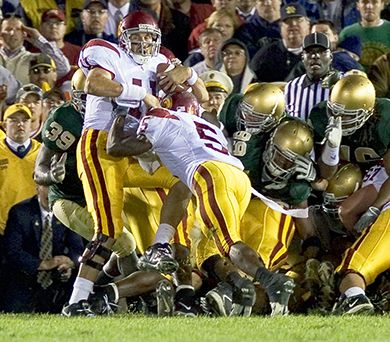 5. With 79 consensus All-Americans and 48 inductees in the College Football Hall of Fame, it is clear that there have been many great players in the history of

Notre

Dame football. What was the greatest single season from a player that you ever witnessed during your Irish

fandom

? Be specific. Use adjectives.
Unfortunately, my football watching before I attended ND is almost entirely composed of the Davie/
Willingham
eras, which did not yield the All-America talent that some of the more senior members of
IBG
may be able to name. The easy pick for me would be someone from the '05/'06 teams, but I'd rather go with more of a 'deep cut' in ND's all time sack leader, Justin Tuck. In a 2003 season that was generally pretty forgetful, it was memorable to see Tuck line up at DE every play and see who he was going to dominate on every play. 11 games later, #44 had tallied 13.5 sacks in the season, the largest single season number since
Notre
Dame began recording sacks in 1982. There was just something about the passion and intensity with which Tuck played the game that made him one of my favorite Irish players to watch.
Let's see some of this intensity! Go Irish!=