Welcome to another installment of the Irish Blogger Gathering. The
Brawling Hibernian
hosts the questions this week. Enjoy.


1. Coming off a very difficult loss to a rival that has now beaten them eight straight times, Notre Dame faces another that's beaten them six straight. Can Notre Dame end the losing streak against BC or will the combined weight of the USC loss and recent history against the Eagles be too much to overcome? Explain.
Boston College will play Notre Dame close like they do every year, but Vegas is slotting the Irish as an 8 point favorite for a reason.BC is 0-2 on the road this year, and in their two conference wins (Wake Forest and FSU), the Eagles nearly blew the game by letting the opponent rally in the second half. However, this game is really more about Notre Dame than Boston College. After playing USC down to the last second (BC was blown out 48-14 by then #5 Va Tech), the Irish find themselves in a cliché "gut check" scenario. Will the players rally behind their coach and play like they did last Saturday? If so, the Blue and Gold should come away with a 2 touchdown win.
2. Not unlike Notre Dame's defense, BC's offense has been pretty erratic this season. While in their most recent win, they rolled up 480 total yards and scored 52 points; in their two losses, they've averaged 109 yards and 11 points.
Which BC offense and which ND defense show up on Saturday? Why?
BGS ranked BC's offensive line second behind USC's, and that doesn't bode well for Notre Dame's defense. BC's 1.5 sacks allowed per game (much better than ND's 2.3) leads me to believe that ND's weak pass rush will be unable to pressure the quarterback, and with BC's trio of quarterbacks demonstrating the ability to protect the ball, an Eagle air attack could spell trouble for the Irish. Once again, though, it is worth noting that BC's two abysmal performances have come on the road, so a big crowd in South Bend could throw them off of their game on Saturday.
3. Does anyone seem primed to have a Robby Parris-like breakout moment against the Eagles? If so, who is it and why?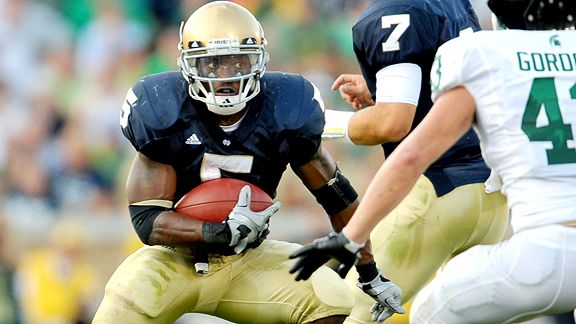 I would like to see Armando Allen return to his pre-Purdue form. After sitting out the game against the Boilermakers with an injury, Allen has only accumulated 90 yards on 24 carries in the last two games. The lack of a ground game amidst our offensive passing inconsistency caused a 4-1 squad to limp to a 6-6 record last season, so as we begin the road to January, regaining a player like Allen will help us survive some of the unexpectedly tough games that will inevitably come up.
4. It's been an and up-and-down year for Boston sports. After a strong start, the Red Sox folded in the second half of the year. The Patriots, meanwhile, seem to be on the upswing after a 59-0 dismantling of Tennessee. For their part, Boston College has seemed as though their season could go either way. Ultimately, will the Eagles be the Sox or the Pats?
Currently sitting on top of the weak ACC Atlantic division, the Eagles will be in position to play for the ACC crown and a BCS berth. The remaining schedule include a tough MAC opponent in Central Michigan, and winnable games @ 3-3 Virginia, 4-2 UNC, and @ 2-5 Maryland. However, even if BC makes it to the ACC Championship game, they will likely be bested by a superior Coastal team like Ga Tech, Miami, or the same Va Tech team that spanked them 48-14 earlier in the season, so my vote is for Red Sox.
5. While most Irish fans refer to BC as "Fredo", tell me to which other cinematic character you would compare the Eagles.
Since 2004, Boston College has won 4 bowl games, had at least 9 wins every year, and hasn't lost to Notre Dame. While they have failed to win the ACC during any of these years, I don't think it is that much of a stretch to say that they have actually out performed Notre Dame, especially when factoring in their current 6 win streak over the Irish. So, while some ND fans view BC as an incompetent little child, I will give the Eagles some credit by comparing them with Tommy Boy. Viewed by many to be incapable, Tommy was able to overcome the odds and succeed despite his shortcomings. Hopefully this weekend will see BC demoted back to its current nickname of Fredo, but for now, lets think of them more like a fat guy in a little coat.