Even more so than any day in spring football, national signing day is the most exciting day on the offseason calendar. Good surprises can come few and far between, but landing a top recruit at the last minute (like Te'o last year) can have a large impact on a program. With that background, lets check out some of the storylines surrounding this Irish recruiting class:
RKGs:

Kelly emphasized the importance of recruiting the right kind of guys, stating in his
first press conference
that he will recruit players that "are mentally and physically tough, that will play for four quarters, and [that are] gentlemen off the field that we all can be proud of." In theory, these tough gentlemen sound pretty bad ass, but if there is one thing the last three coaches have taught me, it is to not get too wrapped up in words. Here are two examples:
"if you don't recruit every day, you've missed the boat"
-
Ty Willingham
on the importance of recruiting
"You are going to have a hard-working, intelligent, nasty football team that goes on the field because the attitude of the head coach will be permeated through the players"
-
Charlie Weis
on his motivational abilities
Up to this point, Kelly's staff has added six players to the current class, recently including four star athlete Danny Spond, but two seemingly superfluous quarterbacks and one 2 star TE have some fans wondering if an "RKG" is just an excuse to miss on blue chip players. Haters should give a little slack here; it is always difficult to put together a solid class on short notice. However, Kelly will need to showcase his ability to player develop if he doesn't want to run into problems three years down the road as Weis' last recruiting class wasn't that spectacular either.
Notre Dame vs. Stanford

An interesting subplot to the recruiting season has been between Kelly's Irish and Jim Harbaugh and the Stanford Cardinal. The two schools have been battling cross-country to nab recruits off one another; here is a quick rundown of the battle of drunken Tree against ND up to this point:
June 28th: 3 star safety Chris Badger becomes the first Stanford commit to defect to the Irish
October 18th: 4 star Tai-ler Jones decides he would rather have Dayne Crist tossing him the rock and decommits from Stanford
January 16th: 3 star OL/TE Tate Nichols becomes the first Stanford recruit stolen by Kelly's staff
January 25th: Notre Dame is dealt a tough blow when 4 star DE Blake Leuders follows his recruiting coach Brian Pollian to Stanford
This'll be easier if you just keep squatting, Jim


Hopefully no one on the current commit list feels like bolting for California tomorrow, but I don't feel comfortable calling this recruiting war over just yet.
Positions of Need:

As was previously alluded to above, there have been some concerns about which positions Notre Dame is offering and landing in the current class. With an injured Dayne Crist as the only scholarship gunslinger on the roster, QB was an obvious need this year, so I personally don't think bringing in 4 quarterbacks (1 of which will likely end up playing more of an H-Back) is a bad thing. Sure 1 (or maybe even 2) will end up transferring in a year as they fall down the depth chart, but with such a looming question mark behind Christ, it is probably better to have the numbers for now.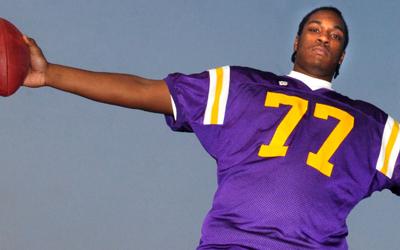 Henderson is sitting high on most fans' wish lists
With a lot of inexperience on the two-deep, DE, DT, and OT are also positions that this class could use a little help at (think of 5 star OT Seantrel Henderson as being this year's version of a much larger Manti Te'o), but I personally think that the safety position has the biggest need of a recruit in this class. Beyond Harrison Smith (who is ideally more of a LB/S hybrid), Dan McCarthy and special teams ace Zeke Motta are the only 2 safeties on scholarship. Another safety recruit to compliment Chris Badger would significantly add to our safety depth.
Time to start crossing your fingers and making trips to the Grotto Irish fans. Signing day is tomorrow!